Automated Insurance Tracking Software
Simplify how you manage Insurance Certificates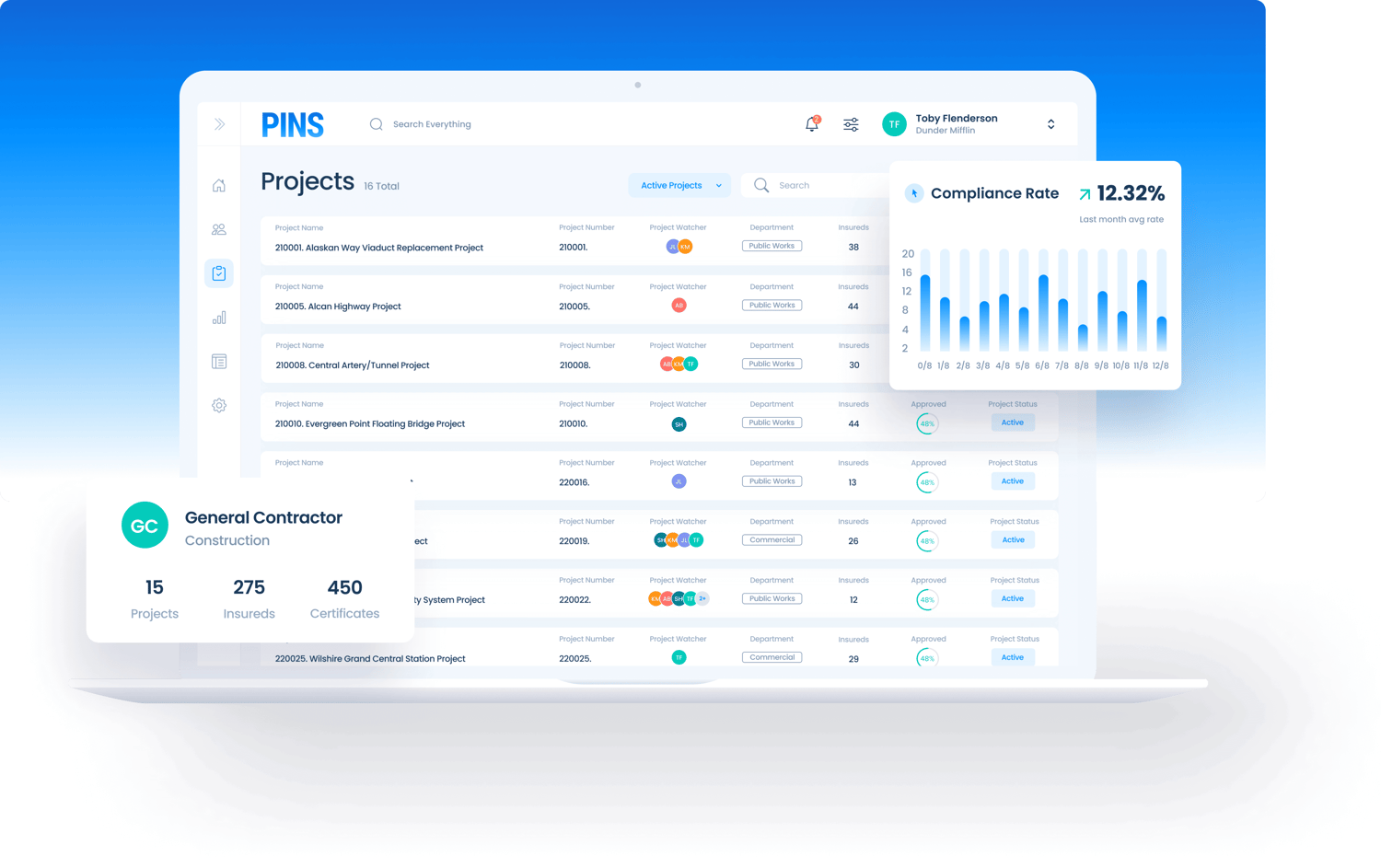 Efficiency Is Key In Eliminating Risk

Request Insurance
Build templates with customizable insurance requirements and send the requested coverage to vendors, contractors and/or agents.

Insurance is Submitted
Using OCR (Optical Character Recognition), agents submit insurance certificates, as well as any other requested documents.

We Notify You
All parties are automatically notified of submission and overall compliance, keeping everyone on the same page.

Trusted by many industries

Reduce Compliance Gaps
Avoid potential project delays, fines, and legal repercussions from coverage gaps. Automatically notify insureds of renewals and easily work with agents on COI submissions.

Save Time
Reduce the time spent dealing with insurance coverage, compliance, and broker submissions. Use templates to standardize workflows and apply requirements to all insureds on a single project.

Reduce Costs
Avoid penalties and administrative overhead by optimizing team workflows and increasing efficiency. Have confidence that all your contractors and vendors are compliant and up-to-date on their insurance policies.

Grow Your Business
With PINS you can know that insurance coverage is taken care of across your business-so you can focus on what matters. Standardize and automate insurance submissions based on your preferences.

Cyndia Ryan
Risk Manager, C.W. Driver
The thing I love most about PINS is everything. It used to take us 2 days to send expired notices, but now I literally press a button and I get all my expired notices done within 5 minutes. Our experience with PINS Customer Service has been outstanding, you can't beat it!

Mike Louwaert
Project Engineer, CSM Group
PINS has been a game changer for our insurance tracking! PINS has saved CSM Group a tremendous amount of time when it comes to entering data and sending notifations to our trades. PINS customer service team is incredibly responsive and has implemented specialized tools to save us time such as the easy-to-use Cloning Tool.

Dr. Scott Mann, MBA, CBO, ARM
Risk Manager, City of Sunnyvale
PINS has been a godsend. PINS software has improved our organizations risk transfer process in a significant way. Tracking on a spreadsheet was extremely cumbersome, problematic and things were very simply often overlooked. We are very pleased with PINS and will be continuing to use it as satisfied customer for many years to come.
FAQ
Check out the most common questions
Does PINS have OCR?
Yes! We use machine learning enabled OCR to make the Certificate flow as quick and easy as possible.
Does PINS check for compliance?
Yes. PINS checks for submission compliance against the requirements.
Does PINS integrate with other applications?
Yes. PINS offers a suite of pre-built integrations with Sage 300 CRE, Vista by Viewpoint and Procore. We also offer a publicly available API for you to seamlessly integrate your data.
Get started with your personalized demo

Request a demo and learn how PINS can help you automate your insurance tracking process.