Insurance Certificate Management
For Agents & Brokers
Using PINS to Manage Certificates is a Win-Win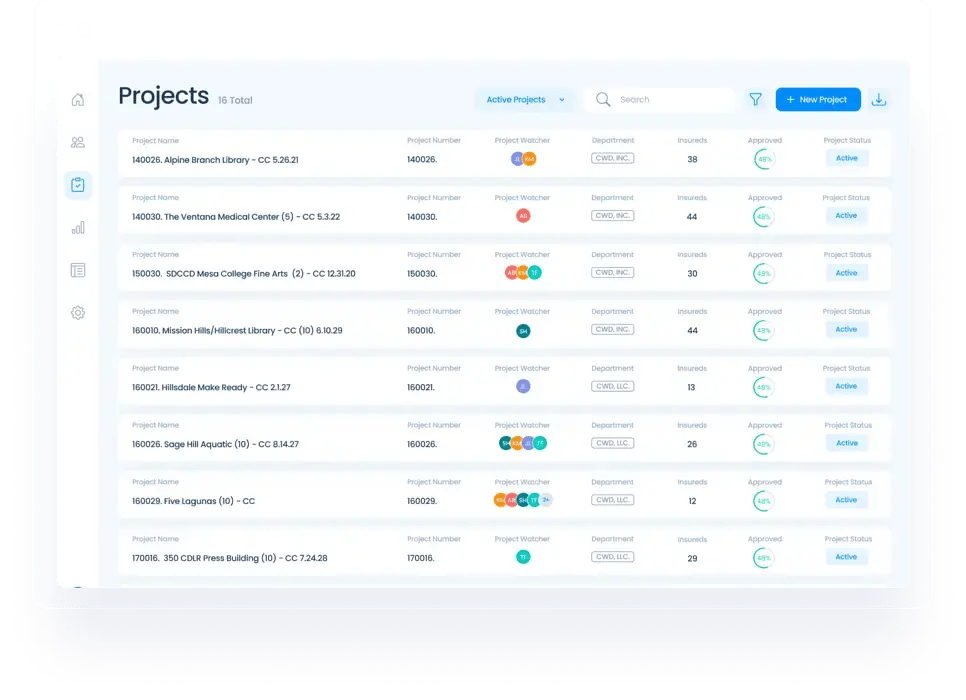 FEATURES
Upload & Track Certificates Of Insurance
PINS enables teams to easily manage Insurance
Requirements, Submissions and Compliance Workflows across Projects.

Free OCR PDF Reader
Securely store your Certificates of Insurance in our AWS Cloud, or export your data with our public API.

Easy Uploads
Our servers are 100% located in the USA, and we have AWS level II daily backups. We guarantee a 99% uptime, and can store documents forever.

Verify Requirements
Subcontractors, Vendors, Drivers and Agents can all easily log into PINS to provide insurance documentation, at no extra cost.

Get the Status
PINS allows Agents & Brokers to get real time status updates on their Submissions, and notifications for upcoming policy renewals.

Renewal Notifications
Automatically set renewal emails to trigger whenever renewals are needed, looping in Agents and Insureds for seamless updating.

Agent Portal
Create Insurance Requirements as Templates that can be applied across groups, or Projects, saving time and increasing compliance.

Public API
Use our API to import / export data in real time, across external platforms.

Integrations
We integrate with Sage 300 Construction & Real Estate, Procore and Viewpoint by Vista.
OPTIMIZE YOUR COMPLIANCE
PINS Is Free For Brokers & Agents
Reduce Errors

Increase Renewals

Save Time

Grow Your Business
Avoid mistakes, delays and gaps in coverage
Automation allows you to be more precise when entering data into databases like COI systems or claim management platforms because it eliminates human error—which means more accurate information gets stored in these databases. Less human error means fewer delays in completing tasks.
Automate the renewal process
An investment in automating insurance certificate tracking and management can assist brokers and agents in streamlining their processes and supporting their clients. Automate the renewal process by allowing agents to submit their certificates through an online portal, with their data automatically populated into the submission form. The more manual processes you can replace with automation, the more efficient your business will be at providing excellent service to your customers.
You've got enough on your plate
As an insurance agent or broker, you know that time is money. That's why you spend countless hours every week trying to get more clients and keep your existing customers happy. The time spent on managing COIs is time away from other activities like prospecting new clients or refining marketing strategies. PINS can save you time everyday, on business tasks like finding documents and emailing or calling for renewals.
Grow faster and stay competitive
It's important to stay competitive in today's fast-paced environment and it's critical to grow your business as quickly as possible while maintaining reliability and accuracy. You need to attract new customers, but you also need to use your time efficiently so that you can spend more time actually selling policies instead of tedious manual data entry. With automation, it's easier than ever to find new customers in the right places and at the right times when they are most likely to buy insurance from you. This increases efficiency and reliability, and saves time and money for everyone involved, including yourself!
Is there OCR for Agent Uploads?
Yes! Our OCR tool is available for Certificate uploads to any user.
Does PINS notify the Client when Agents submit Certifications?
Yes! PINS sends notifications to all parties to notify everyone of any changes to COIs. Notifications can be managed by Admins. Realtime activity is also logged in the Activity Feed.
What if I need support?
We've got you covered! PINS has world-class customer service available for support with uploads and questions about our product.
How do I get started?
Getting started with PINS is easy! Simply book a Demo with a PINS representative, so we can get you set up. It's that easy!
Get Started with your personalized demo

Request a demo and learn how PINS can help you automate your insurance tracking process.